I personally created this DO-it-yourself itinerary for sole purpose of experiencing the best of Japan in the cheapest way possible.
Make sure you have your Japan Tourist Visa with you; otherwise, you can get to Japan.
My Winter Escapade to Tokyo, Japan on February 2 to 8, 2014. I booked my flight in PAL, cheapest so far, amounting to P23000 + Including the Travel Tax and Terminal Fee
Philippine Airlines
Arrival Narita Airport:
Feb 2 2014 FLT 428: 9:45 am to 14:55pm
Departure Narita Airport
Feb 8 2014 FLT 439: 19:30 to 23:15pm
I booked my hostel reservation in Bakpak Tokyo Hostel thru booking.com, reservation is free.
bAKpAK Tokyo Hostel
3-12-5 Ryusen Taito-Ku, Tokyo, Japan
Tel: +81 3 3875 3264
How to get to Bakpak Tokyo Hostel from NARITA Airport
The easiest and cheapest possible means of traveling is by the KESEI LINE to UENO STATION [H 17] and transfer to the HIBYA (SUBWAY) LINE to MINOWA STATION [H 19]
Total Travel Time: Approximately 80 minutes
We arrived at Narita Airport around 2pm, I hurriedly walked over and searched for Keisei Skyliner to purchase my ticket to get in and out of Ueno Station.
I purchased the Keisei Skyliner & Metro Pass at SKYLINER TICKET OFFICE TERMINAL 2
Skyliner Round Trip + Special Combination 2-Day Open Ticket for only ¥4,880
1F Arrival Lobby 'Keisei Bus Ticket Counter'
Narita Airport ticket counters operating hours:
7:00 a.m. to 9:00 p.m.
As soon as I purchased my RT Ticket and a day Tokyo Metro Pass, I went to Japan Rail Pass Office to exchange my voucher into ticket, which will allow me to use JR Lines unlimited for 7 days.
The unlimited Japan Rail Pass is only offered to foreigners who wish to travel Japan. This can be availed only outside Japan thru accredited Travel Agencies in your home country or online. I bought mine online and have it delivered to my address. In just 2 days, I got it! I availed the 7 days pass which cost 269 USD per person.
I rode the Keisei skyliner departing to Ueno station, which lasted for 30-40 minutes I think. From Ueno Station, I used my metro pass to get into hibiya subway line and get off at Minowa station. From Minowa station I headed to my hostels; walked for almost 10 minutes.
There's no need to worry when you're in Japan, there's almost 7 eleven store everywhere, and direction signs are also translated in English.
When I first looked at the subway station map, and then, the JR lines, I was so confused, I thought I won't make it. But I did. It's so easy!
My first day in Japan is pretty tiring, because I have to carry my luggage and walked till I reached our hostel. Kouchi, the hostel owner is very kind! I like my room too. It's a traditional Japanese style room, we have our own bathroom. There's a common kitchen which can be used.
First day in Japan, we visited the Riponggi Hills, where you can feel the luxury lifestyle of Japanese. You can also have a better view of the beautiful Tokyo tower. Took a quick glance at Ginza.
2nd day in Tokyo
It's cold! I just realized I didn't bring warm clothes, and I didn't know how to use chopsticks.
I walked to the Minowa station and purchased a 1 day Metro Pass in the Ticket Machine. (There's an English option, so don't worry); took the Hibiya subway line going to Ueno Station and transfer to Ginza Line and get off at Shimbashi for meeting the MT fuji and Hakone group tour we joined.
We opt for 14000 Yen – no Lunch, return by Bullet train. Our guide for that day is Junko. We didn't manage to get to 5th station of Mt Fuji, due to the snow, only the 2nd level which fine with me.
Stayed there for quite long and then we had our lunch at the Hakone lake. Took the pirate ship and then, the cable car which allows you to see some kinda mountain where there's sulfur.
At the end of cable car ride, is a souvenir shop. The wind blows is too strong! Ah, I remember the black egg. I heard this is quite famous here.

End of tour is when they brought us to Bullet Train and we went back to Tokyo on our own.
3rd day in Tokyo
Woke up early to visit Tokyo Skytree. From Minowa station, I purchased a PASMO Card, and load it with 4000 yen and then went to Ueno station and transfer to Tokyo Skytree Line.
As soon as I arrived at TokyoSkytree ticketing office, there's already a huge line! Waited for almost half an hour to get my ticket for 2000 yen. The view at Skytree observatory deck is really splendid. You can see most of Tokyo! You shouldn't miss this.
From Skytree, we went to Asakusa Line and get off at Asakusa station for the sensoji and asakusa temple and a little shopping.
24
From Asakusa, we took the JR Line going to Tokyo Disneyland!
I wasn't able to follow our itinerary for this day, because I took the wrong subway line! So instead, we went to Shibuya and had some hot coffee at starbucks, shopped around and went to Shinjuku. From Shinjuku, we went to Meijigu station, connecting to Harajuku station known for cosplay.

The walk to get to Meiji Shrine is really long!

Before lunch, we left for Imperial Palace; I availed of the free tour. Just register online to make a reservation; otherwise, you won't be able to visit certain parts of the palace.
It was a freezing rainy day. The tour lasted for 1 hour, since it is a guided tour, you won't have much time to take pictures!
After our Imperial Palace tour, we headed over to our Night Cruise. I availed this cruise package at Japanican.com for 12000+ Yen. It was a wonderful experience I suggest you try. You get to have a better view of Tokyo at night.
5th day
We took the JR Line in Tokyo Station at 6:26 am Hikari 501, take note of the JR Lines schedule as well the train type so you won't get into wrong train. You can check the train schedule as well travel time at hyperdia.com
Hikari 501 From Tokyo to Shin Osaka
6:26am – 9:30
From Shin Osaka, we transfer to Sakura 551(9:59am) and get off at Hiroshima station(11:26am)
From Hiroshima Station, we took the tram no 2 to get to Hiroshima Peaceful Memorial Park, where war history can be traced. It's snowing already. Such a beautiful experience. I feel like I am filming a movie with this snowflakes!
We took Sakura 552 at 13:13 leaving for Shin Osaka. We just took a quick glance of Osaka. To be honest, I wasn't fascinated with Osaka during winter, perhaps, I'll enjoy it more if it's Spring.
From Shin Osaka, we get off at Nagoya station and walked around. I enjoy this prefecture more than Osaka. It's lively, and there's entertainment; where teenagers are performing on the street, and where new aspiring singers promote their selves.
We left Nagoya by evening and went back to Tokyo station and shop around. Among stations, I like Tokyo station, with so many sale items to buy, and many choices of food to eat!
6th day
Last 2 days! We went to Ueno station and Transfer to Joetsu shinkansen bound for Gala Yuzawa Resort.
As soon as we arrived in Gala Yuzawa, I cannot contain my happiness. That was the first time I was surrounded with snow! Everywhere I look, I was mesmerized by its beauty. I took the Cable car and watched many people ski! I really hope I can ski! I promise that the next time I go back to Japan, I will ski!

I cannot stop myself from playing in the snow and taking pictures! I just love it!
I cannot possibly miss to visit the Ghibli Museum! If you are a fanatic of My Neighbor Totoro, Castle in the Sky, and more of Ghibli Studio films, then, you shall visit this place!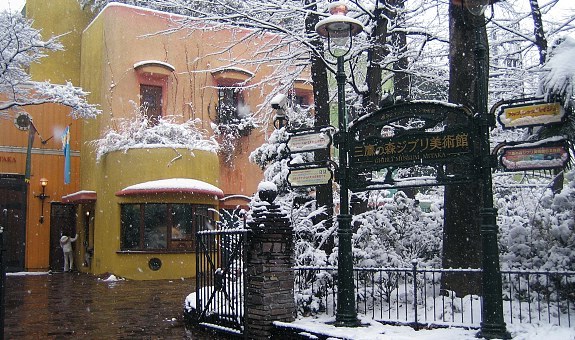 Before the day is over, we went back to Ueno station to buy pasalubong and shop. You can find cheap items here, but I am not satisfy with quality of items here, so I decided to just walk around.
Our tour will not be completed without the Onsen or Hotspring. It's cheap but you really need to get naked.
7th day – The last
It's snowing heavily today! I went to Ikebukuro and shop as many as I can, then headed to Akihabara and bought some items. After lunch, we left our hostel and took the keisei skyliner back to Narita Airport Terminal 2 before the snow storm hits hard.
We safely arrived at Narita airport and wait for check-in. Due to heavy snow storm outside, many flights have been suspended, many were stranded and trains stop its operation. I was told that this is the first time it happened after 3 decades or so.
Our flight was delayed and eventually canceled. The staff of Narita airport provided many of stranded passengers sleeping bags and food too. Kudos to Narita Airport Staff at Terminal 2.
Flights resume the next morning when the weather is fine and the sky is perfectly clear.
I took this photo from the plane, just as we departed from the Narita Airport.

Back in Manila by 1:30pm, it's freaking HOT!
Click Here to Download 7 Days 6 Nights Tokyo Japan Itinerary, Nagoya and Hiroshima Side trip