Quality leather backpacks, briefcases, luggage and bags are expensive enough that you'll want to make sure that you're doing everything possible to take good care of them so that you can get as much use out of them as possible. When taken care of properly, leather can last for generations to come and could very well be something that you pass down to your children who can pass it down to their children.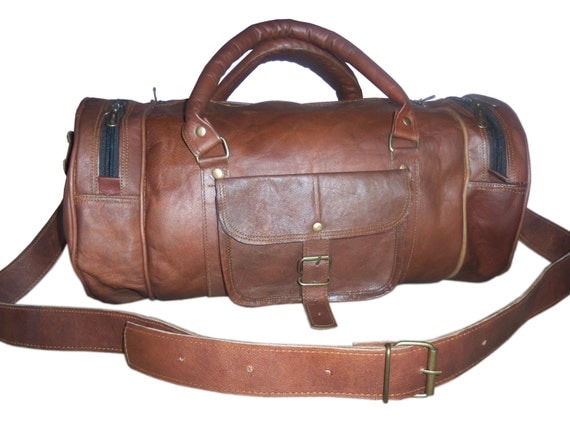 Starting Tips

After you first purchase your leather duffel bag or any other type of leather bag, you'll want to apply special protective products that are made specifically for leather. You'll want to make sure that you apply the protective product three or four times a year to keep it in good condition. Leather experts also recommend that you keep your leather bags nice and moist with a quality leather lotion. Avoid using any type of cleaning and protective products that aren't made specifically for leather so that you don't accidentally damage your bag.
When applying body sprays, perfumes, hair sprays and other related body products, it's best if you don't do so around your leather since there's a chance that you can stain and damage it. Clean your leather by simply wiping it off with a clean and slightly damp cloth. Never use chemical products or soaps. Should you ever get any stubborn stains on your leather duffel bag, it's best that you take it to a qualified professional to remove it rather than trying to do it yourself. Avoid storing your leather in plastic when you aren't using it as doing so could dry your leather out. Instead, store your leather in a breathable and well-ventilated container, such as cotton fabric or a cotton bag.
Wet and Dry Leather
Should your leather ever get wet, you'll want to slowly dry it. Drying it out too quickly can alter its overall chemical structure and make the leather stiff and cracked. Room temperature and softly flowing air will work best. You'll also want to take care that you arrange the bag in the shape that you'd like for it to maintain while it's drying.
For dry leather, rub it with a cream or dressing that's designed for leather. Leather can have wax, oil and paint on it, and you'll need to be sure that you use a product that's best suited for how the leather originally came.
Dirty and Stretched Leather
Use a slightly damp clean cloth to gently wipe off your leather when it gets dirty. Use leather cleaner after you've wiped if off in order to preserve it and restore its natural oils. Before you apply the leather cleaner, it's recommended that you test it on a small area of the leather so that you'll be able to see how it turns out. You should know that leather stretches out, but it doesn't stretch back to its original shape. Be careful that you don't overstuff leather backpacks. If the leather is humid or wet, it's bound to stretch even faster, so be cautious when using your leather bag in the rain or in the summer.
Take good care of your leather bag and it will take good care of you. Find an experienced leather cleaner in your area that you can go to in case you ever have a stain that you can't get out on your own.